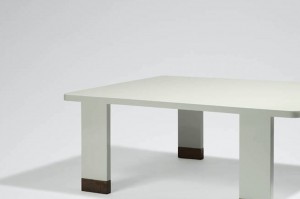 Jacques Quinet (1918-1992)
Jacques Quinet was born in 1918 in Lisieux. He began his activity in the 1940s as a decorator and remained very active until the end of his life in 1992. He produced beautiful, sober and elegant furniture, executed by different manufacturers.
His first productions, sometimes of neoclassical inspiration, made his reputation. However, those of the 1960s and 1970s are the illustration of a mature work which had managed to adapt to the demand. Jacques Quinet's design always uses luxurious materials (lacquer, precious wood, bronze) as its signature, but also does not hesitate to experiment with innovative ones (stainless steel, Plexiglas, cork), which, tastefully incorporated into sheer forms, accentuate their structure.
Arts Décoratifs XXe