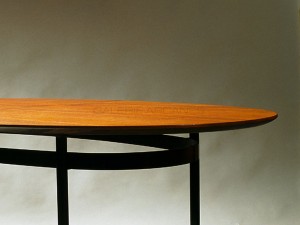 Louis Sognot (1892-1969)
Louis Sognot begins his studies at the Bernard Palissy school before entering the Maison Jansen, where he learns the fundamentals of traditional woodworking. He later joins the Maison Krieger where he his commissioned to accommodate small spaces, like ocean liner cabins, and thus develop an interest for the functional aspect of furniture.
In 1920, Louis Sognot enters Primavera. Influenced by Cubism, his furniture is massive and veneered with fine wood species. In 1930, he joins the French Union of Modern Artists (UAM). In the search for functional and broadly affordable productions, Sognot invents and builds; introducing modern materials, such as duralumin, glass and mirrors, within the design of the furniture. It is therefore as a forerunner that he presents with Charlotte Alix in 1932 a brand new material, the Lakarmé; a moulded kind of plastic, light and fire-resistant, which offers great freedom to shape forms. In 1935, the two creators make design history by completing a major command: architect Eckart Muthesius builds the maharaja of Indore's Palace and requests Sognot and Alix for the making of various furniture that thereafter became absolute masterpieces of Modernism. The same year, Louis Sognot also collaborates in the accommodation of the ocean liner Normandie, another Art Deco monument.
After the Second World War in a difficult context of reconstruction, Louis Sognot seeks to come up with smart and functional furniture, colourful and of fine fabrication, able to fit new needs in terms of housing. Hence his use of new or economical materials, such as rattans.
Louis Sognot would collaborate with Serge Mouille for luminaires, or Maurice Rinck and Charles Wagner, who would edit his furniture. Additionally, he would teach at the École Boulle, the École Nationale Supérieure des Arts Décoratifs (National School of Decorative Art) and the school of the Union Centrale des Arts Décoratifs (Central Union for Decorative Art). However, Louis Sognot's legacy spread widely beyond the circle of his numerous students.
Arts Décoratifs XXe