Round Dinning Table, Glass and Leather, Circa 1950 | Jacques Adnet
Period : Circa 1950
Materials : Golden brass , glass, black leather
Dimensions : Height : 30 in. ; Diameter : 50.7 in
Artist : Jacques Adnet
Cet objet n'est plus disponible
Description
Beautiful round dinning table. The circular glass top is resting on four golden brass legs, sheathed in their original saddle-stitch black leather, and joined by four concentric tubular rings of the same kind.
Height : 30 in. ; Diameter : 50.7 in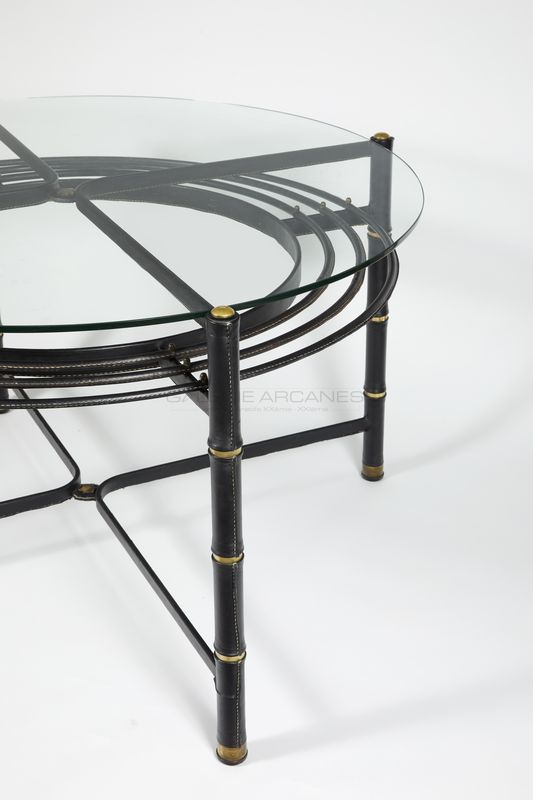 Jacques Adnet (1900 – 1984)
Graduated from the École Nationale des Arts Décoratifs, Jacques Adnet begins his career under the aegis of Maurice Dufrêne, starting assisting him in 1922 in the Maîtrise of the Galeries Lafayette.
At the corner of rue Matignon and the Faubourg Saint Honoré, his workshop becomes a unique hotspot for creation, leading to an exceptional vitality in 1950s French Decorative Arts. Jacques Adnet is frequently commissioned for his sets, a functional furniture which metallic structures, sheathed with natural or synthetic leather and showing simple and elegant lines, perfectly fit the renewal of modern spirit.