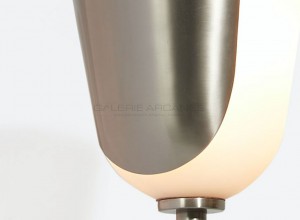 Jean Perzel (1892-1986)
Jean Perzel was born in Bavaria in 1892 and is trained to become a stained-glass artist in Munich. Graduating as major of his class, he travels across Europe before reaching Paris in 1910. There he deepens is lore at the side of a master stained glass artist who entrusts him with an important command in Alger a year later. In 1914, Perzel enlists in the French Foreign Legion. Five years later, he obtains his naturalization and starts again his activity as stained glass artist in Jacques Gruber's workshop.
Above all, Jean Perzel takes interest in the development of electric lighting, which at the time offers many opportunities for discoveries. In 1923, he creates in own firm and settles his workshop rue de la Cité Universitaire. He then undertakes a methodical approach to lighting and work to the enhancement of modern interior. In doing so, he obtains several prices for the devices he presents in various events such as 1925 Salon des Décorateurs or 1932 to 1936 Salons of the Beaux Arts National Society. The lighting of luminaires by Jean Perzel is soft and diffuse. Sleek forms, of Art Deco influences, remarkably underline the decorative expression of glass work and perfectly fit modern architecture.
Soon seconded in his endeavour by his nephew François Raidt, Perzel acquires a fame that leads him to be entrusted with important lighting projects and to get to work with the greatest architects of his time, like Le Corbusier, Jules Leleu, or Michel Roux-Spitz. In the meantime, he is entrusted with the illumination of great monuments such as the Palais des Nations of Genève, the Cathedral of Luxembourg, or the Embassy of Canada in Lahaye. Trendy figure, he also fulfils numerous private commands creating original pieces for the Maharaja of Indore, the king of Belgium, the general De Gaulle or French President Georges Pompidou.
Jean Perzel dies in Paris in 1986. His house, where his luminaires are still exhibited, testifies of the visionary personality of this one-of-a-kind creator.
Arts Décoratifs XXe