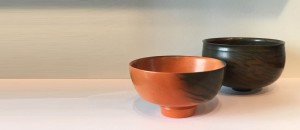 Pierre Bayle (1945 – 2004)
Pierre Bayle's technique and narrative take form between Castelnaudary (south-west of France) and Paris, and are perfected on his return to his native Minervois, in the early 1970s. There he builds his own kiln and undertakes research on roman terra sigillata. He uses a white clay, of which he perfectly masters the throwing, and refines slipware and heating in the very manner of pottery masters from Antiquity.
Bayle does not paint its ware, but let the flame decide of the effect produced from ferruginous clays, which turn to reddish hues when heated in oxidizing atmosphere, and to blackish ones in a reducing environment.
Eminent personality of 20th century French pottery, Pierre Bayle obtains the 1st price at the biennale of Châteauroux in 1981, and his work is consecrated by a great exhibition hosted by the Maison Joë Bousquet of Carcassonne in winter 1996–1997. In 2002, he is honoured by the Liliane Bettencourt Price and is decorated Chevalier des Arts et des Lettres. Some of his earthenware is now permanently exhibited in the Musée de Sèvres and the Musée des Arts Décoratifs.
Art Contemporain