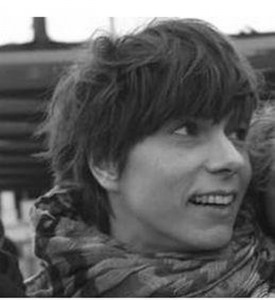 Clara Baum (born in 1974)
After her studies in Lettres Classiques (Classical literature) and preparation to Normale Sup' (one of the French superior schools), Clara Baum settles in the Creuse region where she learns ceramic restoration. She now is a cartoonist, with therefore an eclectic itinerary, and above all loves to tell stories. Her drawings are definitely akin to those of French artist Sempé in the gentleness and poetry of the strokes, yet balanced by a subtle dose of marvel and wonder. She uses watercolour and ink pen, but also realizes intaglio printmaking (engravings) with drypoints and etchings (engravings using a strong acid).
Throughout exhibitions and publications, the discrete artist restlessly explores more and more singular territories with a precious consistency. Her drawing arises from astonishment. It displays a strong sense of detail, the stroke is thin and meticulous, aimed at producing the sleekest composition. Timeless, Clara Baum's drawing extracts the marvellous essence of everyday events, with a small impish touch. Her look is gentle, never cynical: the world Clara Baum offers to discover is mildly extravagant, sometimes absurd, but always kind.
Catherine Deneuve, Emmanuel Chain and many others have bought her drawings and her exhibitions meet a growing success. Her last book 'Le Louvre de Clara Baum' published by Somogy-Le Louvre was released in January 2016.
Art Contemporain