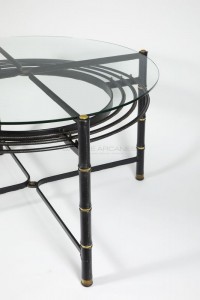 Jacques Adnet (1900 – 1984)
Graduated from the École Nationale des Arts Décoratifs, Jacques Adnet begins his career under the aegis of Maurice Dufrêne, starting assisting him in 1922 in the Maîtrise of the Galeries Lafayette. Adnet is one of the very firsts 'ensembliers-décorateurs' (set designer-decorator) and exhibits his work from 1923 onward in various salons, such as the Paris Salon des Artistes Décorateurs, designing for the occasion, together with his twin brother Jean, functional furniture with strong and sober lines, using noble materials.
In 1928, Jacques Adnet is assigned with the direction of the Compagnie des Arts Français at the Galeries Lafayette. Prone to collaboration, he surrounds himself with artists, now widely renown, sharing his aesthetic considerations, counting with painters (Dufy, Léger, Chagall), ceramists (Besnard, Lenoble), coppersmiths (Linossier), goldsmiths, tapestry makers, or decorators (Francis Jourdain, Charlotte Perriand). At the corner of rue Matignon and the Faubourg Saint Honoré, his workshop becomes a unique hotspot for creation, leading to an exceptional vitality in 1950s French Decorative Arts.
As a matter of fact, Jacques Adnet acquires a great recognition for his creations. With the building of the Saint Gobain's Pavillon at the 1937 Arts and Techniques International Exhibition, he receives the Great Price of Architecture. He is later invited to preside the highly renown Salon des Artistes Décorateurs in both 1948 and 1949. At that time, he creates a functional furniture which metallic structures, sheathed with natural or synthetic leather and showing simple and elegant lines, perfectly fit the renewal of modern spirit. Blaise Cendars later writes that 'the seven wonders of the modern world are spark ignition engines, rolling bearing, a great tailor's cut, Satie's music, money, the shaved neck of a woman with her hair shingled and, obviously, the work of furniture set designer Jacques Adnet' (Cendars, Profond aujourd'hui).
Jacques Adnet is frequently commissioned for his sets. He notably decorates Mr Franck Jay Gould's hotel or nothing less than the working cabinet of the French president in the Castle of Rambouillet. He also works for various Ocean liners such as the Ferdinand de Lesseps. In 1959, he puts an end to the Compagnie des Arts Français to take the head of the École Nationale Supérieure des Arts Décoratifs until 1970.
Arts Décoratifs XXe