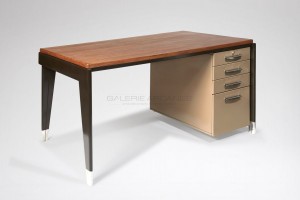 Jean Prouvé (1901-1984)
Jean Prouvé was born in 1901 in Nancy. Son of painter Victor Prouvé, he is introduced and trained to metalworking at age 16 in Borderel and Robert's factory, where he first develop a real taste for moulding matter. Back to Nancy, he opens his first workshop in 1924. He experiments with metal properties and try out new soldering and polishing techniques. Distancing himself from his contemporaries, Jean Prouvé prefers the use of bended metal sheets  rather than tubes, generally combining them with wood. Giving up with the traditional sketchbook, his furniture is based on prototypes above all conceived to be functional and widely distributed.
Prouvé's originality rapidly comes to be noted and his aesthetic with simple, tough and elegant lines, is highly appreciated. Between 1925 and 1930, the designer sees his commands multiplied and diversified. Working hand in hand with architects like Tony Garnier of Beaudouin et Lods, he participates to the interior design of hospitals and schools, for instance realizing furniture sets to equip the rooms at the Cité Universitaire of Nancy or those of Edouard Herriott Hospital in Lyon.
In Paris, Jean Prouvé meets Le Corbusier and Mallet-Stevens. In 1929, he gets involved in the creation of the Union of Modern Artists together with Charlotte Perriand, with whom he notably designs wood-and-plastic bookshelves for the Houses of Tunisia and Mexico in Antony. In Pouvé's own perspective, industrialization in building-making must contribute to social progress. Consequently, far from limiting himself to furniture, he undertakes the development of prefabricated houses, which very conception as kits make them highly mobile; such as the BLPS house, 300 of which would later be commissioned by the French Ministry of Armies. In the meantime, in 1946, he creates the Maxéville workshops, where complete ranges of furniture are designed and distributed exclusively by Steph Simon in Paris.
Jean Prouvé leaves the Maxéville workshops seven years later to install his design office in Paris. He maintains numerous partnerships through the realization of several buildings and interior design projects, and teaches from 1957 to 1969 in the Conservatoire National des Arts et Métiers. In 1963 he receives the prestigious Auguste Perret Price from the International Union of Architects.
Arts Décoratifs XXe