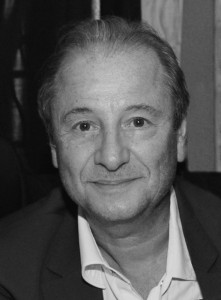 Patrick Braoudé (born in 1954)
Patrick Braoudé is an actor and a film maker. He notably directed 'Génial mes parents divorcent' (1990), 'Neuf mois' (1993), 'Amour et confusions' (1996), 'Deuxième vie' (1999), or 'Iznogoud' (2005).
However, Patrick Braoudé is fond of photography since his teenage days, but only decided to exhibit his clichés for the first time in 2013 in the Villerville festival.
'As a film maker who likes to watch his contemporaries, I enjoy spending time on the beach: groups of friends gathered for a joyful moment, resting families, couples of lovers looking for some quality time, thinkers seeking solitude…
I photograph snapshots of these "spied" lives. Figures often seen from the back, sometimes masked or against the light … blurry beings, Chinese shadows, "ghosts", or even mere patches of colours… With the peculiar light of Normandie that gives to the see its astonishing hues, from grey-green to Prussian blue, to the sand its yellow of a rare smoothness, to the sunshades and the beach paraphernalia their sunbathed radiance… A few photographs … like the storyboard for a movie.' (Patrick Braoudé)
Patrick Braoudé offers us highly pictorial photographs, never retouched, he plays to give us the feeling of standing in front of an 'impressionist' painting, yet keeping the snapshot inherent to the photography… The effects are obtained during the shooting without any computer management afterwards.
'It's Digital Impressionism' friendly said Claude Lelouch visiting the Deauville's exhibition … with a touch of timelessness. Simple photographs of everyday happiness, blurred by the hotness of summer and the moisture of sea spray, where temperature is palpable.
Art Contemporain