About us…
Galerie Arcanes
Founded in 2003, the Galerie Arcanes is situated

in the very heart of Saint-Germain-des-Prés…
The Galerie
About us
The happy and fruitful association of Anne Deconinck and Geoffrey Renaud around their common passion, 20th century Decorative Arts, gave birth to the Galerie Arcanes in 2003. Anne Deconinck worked for 13 years in Drouot, in the Art Nouveau-Art Deco department of the Camard appraisal office, specialized in 20th century Decorative Arts: "This unique expert instruction, where I was used to manipulating thousands of objects a year, has been decisive for my future job as an antiquarian." This solid experience educated her to read a furniture line to identify its maker and period of production. This is where she met Geoffrey Renaud, 5th generation in a fine line of antiquarians, who had been working in the Marché Biron for 20 years, and of whom she still praises the qualities: "discoverer, a sharp eye with restless curiosity, never bored".
Chemistry being well established, the search for the creation, the one that awaits like a sleeping beauty, and the joy of sharing the discovery are the engines that power the couple.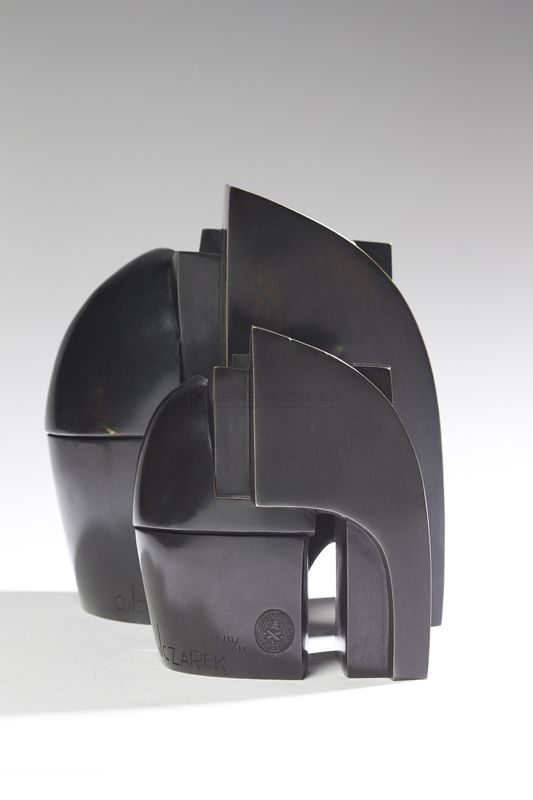 Timeless favourites 
Decorative Arts
Specialized in 20th century Decorative Arts, the Galerie Arcanes exhibits from the beginning a selection of objects, luminaires and furniture by French creators and designers from 1920 to 1970, with certified documentation and origin provided. The Galerie organizes monographic exhibitions where rare and unseen pieces are displayed, such as those of Dominique or the modern creations by Jacques Adnet or Jacques Quinet. Sincere in both the exchange and the transmission of his knowledge about quality works by famous designers, like Serge Mouille, Charlotte Perriand, Jean Prouvé, Mathieu Matégot, André Arbus etc. Goeffrey Renaud explains: "Our role as antiquarians, what drives us since so many years, is to take chances by choosing to champion decorators that the general public is less aware of, like Ico Parisi, Jeanette Laverrière, Raphaël, Maxime Old ; or less popular periods in renown creators' careers. Thus the 60-70s creations by Louis Sognot and Jacques Quinet have quality and elegance that we intend to stand up for." More than mere antiquarians, Anne Deconninck and Goeffrey Renaud are also fine counsellors for learned acquisitions, owing to the close and long-lasting relation that they managed to create with their trustful clients.
Current artists 
Contemporary Art
Since its opening, the Galerie Arcanes also promotes some of its crushes in Contemporary Art. Together with the permanent exhibition of renown ceramists Valérie Hermans and Jean Girel, the Galerie displays the works of Hélène Morbu, Jeanne Bonnefoy-Mercuriali and recently augmented its collection with those of Gustavo Pérez. Ceramics stand alongside innovative creations by contemporary artists, such as Annita Romano's textiles, Clara Baum's water colours, Patrick Braoudé's photographs, or the subtle luminographies by Bastien Carré, the geometric animals of Parisian sculptor Jacques Owczarek and the furniture by Pierre-Rémi Chauveau. Through its careful work of display, the Galerie Arcanes demonstrates that contemporary designs perfectly fit within "Art Deco" or modern environments. In doing so, it breaks traditional boundaries between genres and periods for a successful dialogue … beautiful collaborations to promote creation!
Find us
The Galerie Arcanes is open
Tuesday to Saturday,
from 11.am to 1.pm and 2.pm to 7.pm
11 Bonaparte street, 75006 Paris