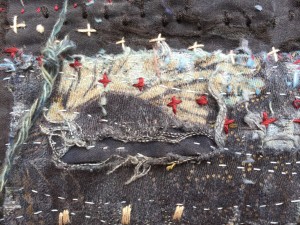 Annita Romano (born in 1966)
Depicting time in art is what puzzles Brazilian artist Annita Romano for more than 10 years. Her work uses ancient and worn-out pieces of fabric, 'bits of memory', through which she threads her needles. Freely and instinctively, she pierces their souls, overlies them, binds, unbinds and rebinds them, thus revealing a ripped off fullness, loose and incomplete. Her hands thread what we refuse to see, what we try to hide, to repress, to bury. Her fabrics unravel our personal existence in an ephemeral world, fragmentary and intermittent.
'Even though the minor detail has its metaphorical meaning, sewing is not in itself a goal… It is more of a thought on fundamental components of art and life. My work binds me to life itself, give it a meaning, leaves a trace in it. For me it is an expression of truth, a way to redemption. I admit it is probably an impulsive and insane position, when the disturbing message is that life is evanescent, that we are alone in the world, that we hurt each other, that we grow up, get old and forget… And that none of this can be captured, not even in art. But my work makes me free, it brings me to a state of ecstasy and total abandonment. So yes … after all, only hope remains.' A. Romano
Her recent works are compositions with subtle shades, frame with aerial structures and floating in the air. Her fabrics are bare, translucent, tinted with earth, leaves and roots. Seemingly fragile, these 'skins of life' invite us to enter the deepness of her own sewed truth and to search for its testifying remains within.
Annita Romano was born in Sao Paulo, in Brasil. After a career as an architect and interior designer, and having the studied History of Art at the Ecole du Louvre, she decides to focus solely on painting. In 2006, fabrics become her preferred material to express herself. Since then the international community have taken interest in her innovative approach, and the artist has illustrated herself through various exhibitions, alone or with others, at the Grand Palais in Paris, in Rio de Janeiro, Sao Paulo, or in Germany, in the cities of Berlin and Hamburg.
Art Contemporain