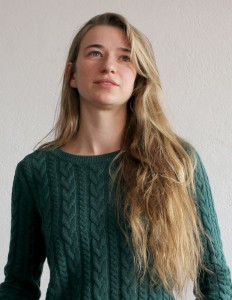 Hélène Morbu (born in 1981)
Though she studied in the Beaux-Arts in Reims and in the National School of Applied Arts and Art Professions in Paris (Olivier de Serres), the least one can say is that Hélène Morbu managed to stand out in the way she apprehends ceramic and disrupts its codes.
Impregnated by Art Deco since her childhood in Saint Quentin (Aisne), Hélène Morbu is part of the logical continuity of this great artistic tradition in France in the early 21st century. Yet she considerably augments its aesthetic vocabulary. She sets up her workshop in Nantes in 2008. Through her technical mastery and the way she listens to the matter, she creates a new formal and plastic language, going to and fro, from the gentleness of textures to the roughness of the lines. The association of colours and materials, partly enamelled, allows her to elaborate effects of contrast and relief with raw clay. Her works have been awarded at the 2016 Young Creators contest of the Ateliers d'Art de France and again at the Ceramic 14 Salon (Audience Award).
Art Contemporain