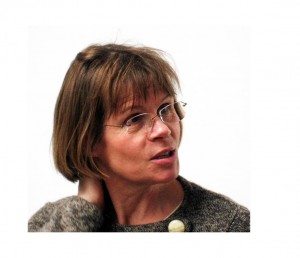 Valérie Hermans (born in 1959)
Born in Nevers in 1959, Valérie Hermans soon takes interest in two thousands of years old Asiatic traditions as her art media of predilection, ceramics and calligraphy, fire and ink. She studies ceramics from 1980 to 1984 in the National Superior School of Applied Arts in Paris while at the same time following classes in the Academy of Oriental painting, thus acquiring training in calligraphy and Chinese painting from one of the great Korean masters, Ung-No-Lee.
Valérie Hermans sets up her first office in 1985 but since 1990 she lives and works with ceramist Jean Girel in Bourgogne, where they equipped their own house with a spacious workshop. This is where she personally elaborates her clay and enamels, a tiresome step in the creation process that few ceramist now have the patience to endure. She approaches ceramics as a calligrapher, emphasizing spontaneity and precision of her movements. Influenced by Chinese painting, her art is suggestive as she abandons herself to abstraction, allowing clays and enamels to express themselves. With their modest size and simplicity of lines, her pieces remind of the Chinese ceramics produced under the Song dynasty (960-1279) or during the years of the Korean Koryo Kingdom (918-1322).
Valérie Hermans's creations are exhibited in prestigious art galleries in France and throughout Europe and constitute masterpieces of numerous private collections.
Art Contemporain