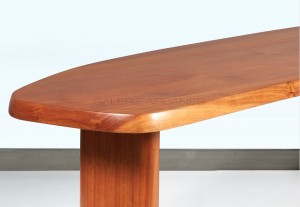 Charlotte Perriand (1903-1999)
Admitted in 1920 in the Central Union for Decorative Arts, Charlotte Perriand completes her training by attending the architecture classes taught by Maurice Dufrène and by taking her habits in André Lothe's workshop. She presents her first creations at the 1925 International Exhibition of Decorative and Industrial Arts held in Paris, and again at the Salon des Artistes Décorateurs in 1926. However, she has to wait until 1927 and the Autumn Salon to retain her contemporaries attention, and notably Le Corbusier's, with her 'Bar sous le toit'.
Seduced by the innovative and essentially functional aspects of the young lady's creations, Le Corbusier makes Charlotte Perriand his official partner. For about 10 years, she is thus associated with the famous architect's and his cousin Pierre Jeanneret's works. Edited at the time by the Maison Thonet, the sets elaborated by the trio encounter considerable success, among which creations is the 1929 Chaise longue, delivered to the Maharaja of Indore's palace in the 1930s. During the same period, Perriand gets involved in the creation of the Union of Modern Artists (UAM), bringing together young avant-garde designers, counting with Jean Puiforcat, René Herbst or Louis Sognot.
In 1937 Charlotte Perriand takes back her independence. Though she remains fond of metal, she then turns to the rural world to find inspiration and designs prototypes of tables made of a single piece of pure pinewood, later edited by Steph Simon in the 1950s. Her creations, brilliantly combining tradition and modernity, make a fine synthesis of her experiences and intuitions, especially increased during her trip to Japan where she is an invited art counsellor. In the meantime, joining the association 'Formes Utiles' (Utilitarian Forms) in the early 1950s, Perriand pursues her research to elaborate normalize storage sets with the aim to combine efficiency, economy of material and mind satisfaction. One of her greatest achievements is definitely the wood-and-plastic furniture set she designs with Jean Prouvé of the Houses of Tunisia and Mexico in Antony.
Widely recognized for her work, Charlotte Perriand is entrusted with the accommodation of many architecture projects, such as the Japanese ambassador's house in Paris, the Air France office in London, or 'Les Arcs' ski resort in Chambéry, where she each time proved her inspired vision of spatial organization and ability to establish a dialogue with Nature.
Arts Décoratifs XXe