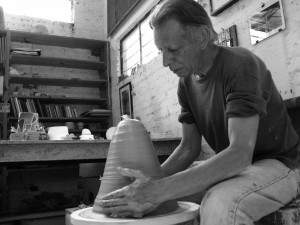 Gustavo Perez (born in 1950)
Born in Mexico City in 1950, Gustavo Peréz begins his training as a ceramist in 1971 in Mexico's school of Design and Craftsmanship. Under the guidance of Felipe Bárcenas, he focuses on the use of the wheel in order to create both light and elegant forms, but also with the aim to render his pieces functional. Gustavo Peréz rapidly builds his own kiln and becomes a teacher where he once was a student. In 1980, he is the laureate of a two-year grant to the Sint Joost Academy of Breda in Netherlands, and is invited to practice his art in Sint Paulus Abdij workshop in Oosterhout. Back in Mexico in 1984, he creates his workshop 'El Tomate' in the Rancho Dos y Dos in Veracruz.
Gustavo Peréz's pieces are fired at high temperatures. Cutting through the epidermis of his ceramics, he creates surface incision afterwards coloured with enamels, thus playing with optic effects.
Gustavo Peréz has been a resident artist in Shigaraki Institute of Ceramic Studies in Japan, in Kecskemét International Ceramic Studio in Hungary, and from 2007 to 2009 in the Manufacture of Sèvres. He has also been invited to teach classes in Germany, France, Spain, Chile, Argentina and Colombia. Since 1984, Gustavo Peréz is a member of the International Academy of Ceramic and sited on its council from 2006 to 2012. His creations have been displayed individually or collectively in the USA, in Europe, in Asia, or even in New Zealand. Of his most famous exhibitions are those held at the Museum of Modern Art and at the Bellas Artes Palace in Mexico City. His latest great exhibition 'self-portrait' took place in Xalapa in 2017, and displayed about 4500 ceramics of his production.
Art Contemporain