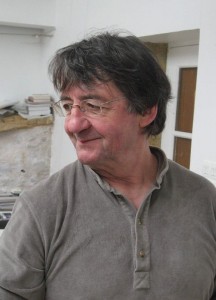 Jean Girel (born in 1947)
Born in Savoie in 1947, Jean Girel begins his training at age 14 with a traditional potter. After having studied the Beaux Arts in Mâcon and obtaining an Art licence in Paris, the obviousness of his vocation appears to him as he discovers Song ceramics : the alchemy of earth, water, and fire reconciles the multifaceted mind of the self-taught researcher, curious man and forever unsatisfied artist.
'Everything begins in the Great workshop, that of the Planet, where elements restlessly transform, adapt, crystallize or return to liquid state.'
Synthesis between Occidental savoir-faire and Far East ceramic tradition, Jean Girel's creation requires the elaboration of clays and enamels, of cooking protocols, as well as the invention of new tools which necessity arises according to the exigency of the creator. The kiln he now uses in his workshop near Cluny is the 17th of his conception for personal needs.
Advisor in matters of techniques and innovation for several production units in France and abroad, Jean Girel writes about ceramic making since 1970. His savoir-faire and desire to share his passion lead him to the honour of being named Maître d'Art in June 2000. In 2004, along with Valérie Hermans, he is invited to Taïwan National Palace Museum in Taipei and works there for almost 6 weeks. In both Taïwan and Japan, the Maitre d'Art title is synonymous with the status of 'living national treasure' and represent a highly valued patrimony. As an ultimate proof of recognition, the Taïwan museum buys him 11 pieces now displayed inside a specially dedicated exhibition room ; an unprecedented event for a contemporary artist !
Jean Girel's ceramics, when not acquired by informed connoisseurs and collectors, are being currently displayed in numerous museums in France and abroad. In 2007, he is named Chevalier des Arts et des Lettres by the French minister of Culture at the request of the Société des Amis de Sèvres. In the past 10 years, exhibitions dedicated to his work follow each other in Sarreguemines, Paris, Brussels, Charolles, New York, La Borne, Geneva, Tokyo and so on.
Art Contemporain